Year-by-Year Overall Ratings
The yearly rating as determined by the membership of the LBG is below, followed by the league table of the highest rated books from each year.
Each LBG member was asked to rate the overall quality of each year's book selections on a scale of 1 to 5, with 5 being the highest. The results show 2004 as the standout year, followed closely by 2007. It is a testament to the overall quality of 2004 that the favourite from that year, Ken Kesey's One Flew Over the Cuckoo's Nest is No. 3 in the overall league table, suggesting there was more than one exceptional title which spread the votes across several different high-quality books.
Annual Quality Rating, by Year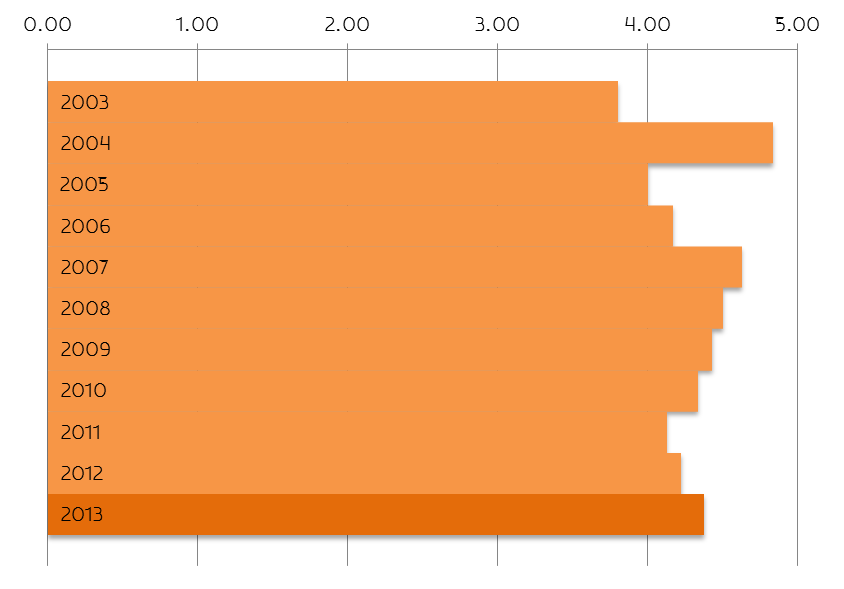 League Table of Top-Ranked Books, by Year
Here's our favourite books from each year:
| | | | | |
| --- | --- | --- | --- | --- |
| | Title | Rating | Owner | Year |
| 1 | Hangover Square by Patrick Hamilton | 3.93 | Anthony | 2007 |
| 2 | One Day in the Life of Ivan Denisovitch by Aleksandr Solzhenstenitsyn | 3.80 | Kay | 2009 |
| 3 | One Flew Over the Cuckoos Nest by Ken Kesey | 3.71 | EmmaJ | 2004 |
| 4 | David Copperfield by Charles Dickens | 3.61 | John | 2010 |
| 5 | The Quiet American by Graham Greene | 3.50 | EmmaT | 2003 |
| 6 | Great Expectations by Charles Dickens | 3.38 | Anthony | 2008 |
| 7 | Scoop by Evelyn Waugh | 2.80 | EmmaJ | 2005 |
| 8 | Alone in Berlin by Hans Fallada | 2.78 | EmmaT | 2011 |
| 9 | The Night Watch by Sarah Waters | 2.63 | EmmaJ | 2012 |
| 10 | Stoner by John Green | 2.63 | Sue | 2013 |
| 11 | In Cold Blood by Truman Capote | 2.50 | John | 2006 |