Rabbit, Run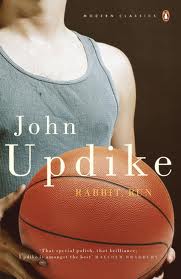 Our book choice for May 2011 is Rabbit, Run by John Updike. It's 1959 and Harry 'Rabbit' Angstrom, one time high school sports superstar, is going nowhere. At twenty-six he is trapped in a second-rate existence – stuck with a fragile, alcoholic wife, a house full of overflowing ashtrays and discarded glasses, a young son and a futile job. With no way to fix things, he resolves to flee from his family and his home in Pennsylvania, beginning a thousand-mile journey that he hopes will free him from his mediocre life. Because, as he knows only too well, 'After you've been first-rate at something, no matter what, it kind of takes the kick out of being second-rate.'
Discussion Questions
Did Rabbit have any redeeming qualities?
Was there anyone you liked?
Did you ever feel you understood and empathised with Rabbit? Was Rabbit just a selfish, typical young man?
What were the main themes?
Did the book seem dated, of an era?
What was the religious message? Was Rabbit a moral man?
What was the reason for all the sex?
Are there British authors you could compare Updike to?
How would you describe Updike's outlook on the world?
Is there merit in writing such depressing books? What do you gain from it?
Individual Comments
Anthony: A tough and gritty book to read. The main character, Rabbit, has few if any redeeming features, which combined by the detailed prose and descriptive sections, made reading the book difficult.

However, as a book to discuss, we found that there was a lot of depth in Rabbit, and we found that we spent most of our time trying to understand and analyse  him. Updike seems to have taken very normal human (male) characteristics, and let them loose without allowing them to be checked by society, and then sat back to watch the car crash develop!

Anthony's Rating
DKB: A difficult read but, as the case with many similar books, it made for a good discussion. I found the prose initially mesmerising but ultimately wearying. Credit to Updike: there's much here to analyse and we made good progress unpicking a pretty unlikable protagonist, even if the overall story lacked the subtlety we enjoyed in other authors we've read. The male-female dynamic added an extra layer to our discussion and was particularly useful to penetrating the book.

Ultimately, I'm afraid I can't readily recommend Rabbit, Run to many people and I'm not rushing out to read the three other books in the quartet.

DKB's Rating