The Spy Who Came in From the Cold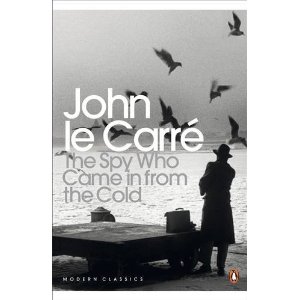 Our book choice for March 2011 is The Spy Who Came in From the Cold by John le Carré. Alex Leamas is tired. It's the 1960s, he's been out in the cold for years, spying in Berlin for his British masters, and has seen too many good agents murdered for their troubles.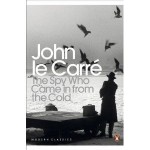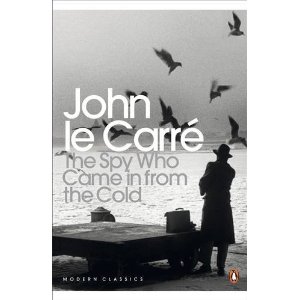 Now Control wants to bring him in at last – but only after one final assignment. He must travel deep into the heart of Communist Germany and betray his country, a job that he will do with his usual cynical professionalism. But when George Smiley tries to help a young woman Leamas has befriended, Leamas's mission may prove to be the worst thing he could ever have done.
In le Carré's breakthrough work of 1963, the spy story is reborn as a gritty and terrible tale of men who are caught up in politics beyond their imagining.
Discusison Questions
The book was published in 1963. Compare/contrast with The Spy Who Loved Me by Ian Fleming published April 1962
Origin of phrase 'cold war' Orwell used it to describe a state of war created by nuclear threat which is 'not peace' (1945 essay)
Meaning of the title

Leamas refuses to take a desk job, stays out in the cold (spy world)
Leamas in the end becomes a human being, comes in from the cold
Leamas rejects his role in the 'cold war'  – ultimately leaving it

Characters – most or least sympathetic?
Why is Le Carre's universe more subdued and grey and bureaucratic than Fleming? Fleming in the navy during the war, Le Carre's spy career came later.
Do we ever understand Leamas? We think we do but so much is hidden from us.
Why does Mundt kill all Leamas' agents in Berlin?
What did you think of the Ccrunch moment, when Fielder asks Mundt how he knew about Liz's lease (Smiley/control told him)?
Why does Leamas explain it all to Liz when it puts her in mortal danger?
What is Le Carre saying about idealism – Liz pays for hers with her life – both political and personal idealism?
Fiedler is a sympathetic character – agree? Some sources think he is the most sympathetic character, untarnished by the war, brilliant and not without compassion or belief.  Leamas seems to want to help him but is F's death preying on L's mind so he sacrifices himself?
Is it too dark, too cynical?
Theme of betrayal and abandonment – JLC's father was a convicted fraudster with lots of schemes to make money out of JLC's success.
Written in five weeks – cathartic metaphorical killing of his career as a spy. Is he like Leamas, killing himself to live?
Structure- start at the end and work backwards  – this is what control & smiley do
Smiley – moral character? Boyd thinks not & says ending shows S planned for Liz to die.
The double cross is carefully constructed with built -n flaws. Most people can only take their assumptions being disproved once, twice is too much ambiguity. Tendency to believe more strongly if you think you have 'uncovered' or been apprised of a truth.  It's like a redemption to discover you have been mistaken – your new ideas transform you. But you can't do this constantly so cling to the 'discovery'. Control & Smiley realize the power of this.
Did you enjoy, would you read again?